Foreign Earned Income Tax Worksheets & 1040 Examples
How do you report your income on your US expat taxes while you live abroad? While living abroad, your income is reported the same way it would be if you were living in the US. If you have earned income abroad and are wondering how to report it on your US expat taxes, this guide will prepare you with what you need to know to report your income to the IRS with a foreign earned income tax worksheet and example.
Reporting Foreign Earned Income on US Expat Taxes
Good record keeping throughout the year is essential to accurate preparation of your US expat taxes — no matter the form you are filling out. This is particularly important when it comes time to reporting foreign income, as nothing can be overlooked. Note that income must be reported regardless of where it was earned, what taxes were already paid on it, and what currency it was earned in.
The following types of income are going to be included on Form 1040 for your US expat taxes:
Wages and salaries, including taxable benefits such as employer-paid foreign taxes, housing, relocation allowances, etc
Taxable interest – (Schedule B)
Ordinary dividends
Returns, credits, or other offsets and local income taxes
Alimony received
Business income (or loss) – Schedule C or C-EZ
Capital gains (or losses) – Schedule D
Other gains (or losses) – Form 4797
IRA distributions
Pensions and annuities
Rental real estate, royalties, partnerships, S-corps and trusts – Schedule E
Farm Income
Unemployment compensation
Social Security benefits
Other income
If you have earned any form of the above income, you should have documentation to explain how the income was earned and prove that the amount reported on your US expat taxes is indeed the true amount in the event of an IRS audit.
You're also going to need to gather information about applicable deductions that need to be reported on your US expat taxes. These include:
Educator expenses
Certain business expenses – Form 2106
Health savings account deductions – Form 8889
Moving expenses for members of the Armed Forces
Penalty on early withdrawal of savings
Alimony paid
IRA deductions
Student loan interest
Other deductions
You should receive many of these documents from their respective payers throughout the calendar year, but it is important to keep everything organized so that information is available when it is time to fill out your Form 1040 for US expat taxes.
Completing Form 1040 for US Expat Taxes: Brian and Sarah Expat 1040 Form Examples
Note: Assuming for the tax year 2021 they:
Received the corresponding amount for their third Economic Impact Payment
They did not receive any Advance Child tax Credit Payments
They filed their tax return in a timely manner
Once you've gotten all of the income and deductions associated with your return, you'll be ready to complete Form 1040 of your US expat taxes. To better demonstrate the process of completing the form, let us introduce you to Brian Expat. Brian and his wife, Sarah, are US citizens and have lived in Pennsylvania all their lives. They got married in 2020 and have been living in Thailand ever since. They also have two small children, Kevin and Audra Expat.
Brian works for a Thai company that handles American clients and has been working there since January 1, 2020. Brian has been earning just over THB 4,000,000, which translates into $125,012 at the year's average annual exchange rate. Sarah, on the other hand, does freelance writing from her home office while taking care of their young children, which earned Sarah $10,000. They have a savings account back in the US that generated $1,000 in interest income. Their last source of income in 2020 was the sale of their second property back in the US, which landed a gain of $30,000.
For deductible business expenses, Sarah completed an online Thai course that was administered by the US Department of Education. This cost $300 for six weeks and was work-related, as she is attempting to have articles published in Thai. She also has expenses from her business, including a new computer, that total $1,000. Lastly, Brian is still paying back his loans for his education back in Pittsburgh, allowing him to deduct the $200 in interest that he paid.
With this information, we can successfully prepare their Form 1040 for their 2021 US expat taxes.
How to Fill Out 1040 and Where to Report Foreign Income on This 1040 Example
The first part of how to fill out 1040 is going to be completing the information section. This includes your name, your spouse's name (if filing jointly) and any dependents that you may be claiming. Since Brian and Sarah are filing jointly this year, they will both be included in their section. Their children's information is also provided in this 1040 example.
Next, Brian and Sarah are going to report their income on their US expat taxes by using the appropriate tax documents from Brian's employer, Sarah's accountant, the sale of their property and the bank statement proving the interest they earned.
Most of the income earned will be reported directly on the first page of the Form 1040. Brian's wages will be listed on Line 1, Wages salaries, tips, etc. Their interest income will be listed on Line 2b, Taxable Interest.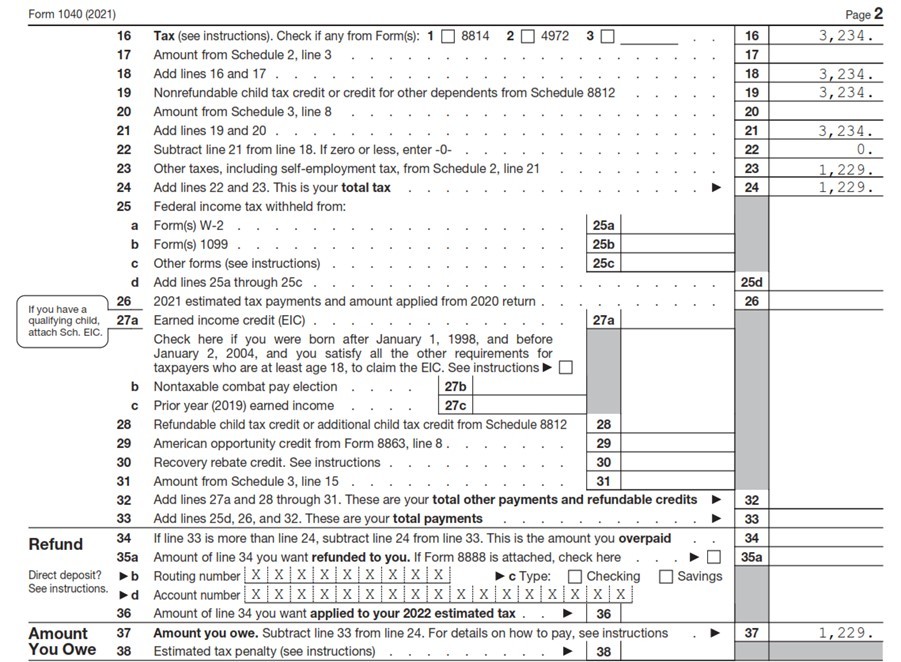 Because Brian and Sarah are both US citizens who have lived abroad the entire year, they are eligible for the Foreign Earned Income Exclusion (FEIE). The FEIE will apply to each of them separately. For 2021, the maximum amount of FEIE was $108,700 per qualifying person. Because of this, Brian will be eligible to exclude $108,700 of his $125,012 in wages, and Sarah will be able to exclude the entire $8,700 she earned from freelance writing.  They will reflect this total $(117,400) FEIE on line 9 of Schedule 1, and also attach individual Forms 2555 to their return, which flows to their Form 1040 Line 8 reducing their income.  In the same manner, Sarah's deductible portion of self-employment tax (Schedule 1 Line 15), and Brian's student loan interest (Schedule 1 Line 21), will flow to their Form 1040 Line 10, reducing their income as well.

1040 Form Example: Calculating Taxes Owed
The first step in determining how much you are going to need to pay on your US expat taxes is determining your taxable income. Since Brian and Sarah are filing jointly in the 1040 form example, they are allowed a standard deduction of $25,100. This reduces their taxable income to $21,558 (line 15 of Form 1040).
Calculating your taxes owed on your US expat taxes can be intimidating, but the IRS provides you with useful tools to identify how much you owe. If you made less than $100,000, you can find your tax rate on page 65 – 76 of the IRS's Instructions for Form 1040. If you earned more than $100,000, use the tables found on page 77 of the IRS's Instructions for Form 1040.
It is important to note that when you are claiming the Foreign Earned Income Exclusion, there is a special worksheet to complete to calculate your tax due for the year. This can be found on page 35 of the IRS's Instructions for Form 1040.
For their total amount owed, Brian and Sarah can reduce their taxes with certain credits. As expats, they would be able to claim a credit for foreign taxes on foreign source income. When the foreign earned income exclusion is claimed, the amount of foreign tax paid or accrued must be scaled down to reflect the portion of foreign source income that was excluded from income. Brian and Sarah paid $301 of Thai tax however after taking into account the foreign earned income exclusion and deductions, Brian and Sarah have no amounts of foreign tax credits to utilize for 2021. Although there is no available foreign tax credit, Brian and Sarah may utilize the child tax credit a child tax credit of $3,234 to reduce their tax (shown on Form 1040, line 19).
Sarah is responsible for self-employment tax on her net business profits, which are accounted for on Schedule 2 (and calculated on Schedule SE).
After considering these additional credits and other taxes, their total amount due is $1,229, as seen on line 37 of Form 1040.
The last steps in finishing Form 1040 for US expat taxes is signing the form, filling out the preparer's information (if necessary), and sending it to the appropriate agency with the necessary payment.
1040 Example: Completing Form 1040
Now that Brian and Sarah have completed their taxes for 2021, they only need to focus on staying compliant with the IRS moving forward. The best way to do so is to stay aware of deadlines for expats, keep information for completing the returns to come in the future (including prior-year tax returns), and keeping up to date with the annual changes of tax policies. It is always good to talk to an expert about your US expat taxes to avoid time-consuming and costly mistakes.
More Information On US Expat Taxes
This post might make filing for the Foreign Earned Income Exclusion easier for you. If you need assistance with the preparation of your Form 1040 and the foreign earned income tax worksheet for US expat taxes, or would like to know more about our expat tax services, please contact us.